Project Info
Location: Mt. Tabor, NJ
Scope of Work: Mahogany Deck Refinishing
This pressure-treated deck is only a year old, but is well-loved. It connects to a covered porch and overlooks a lovely in-ground pool. The deck also receives a large amount of direct sunlight, which is very damaging to wood. In order to protect the deck, the homeowners requested that we stain the decking, treads, and railings.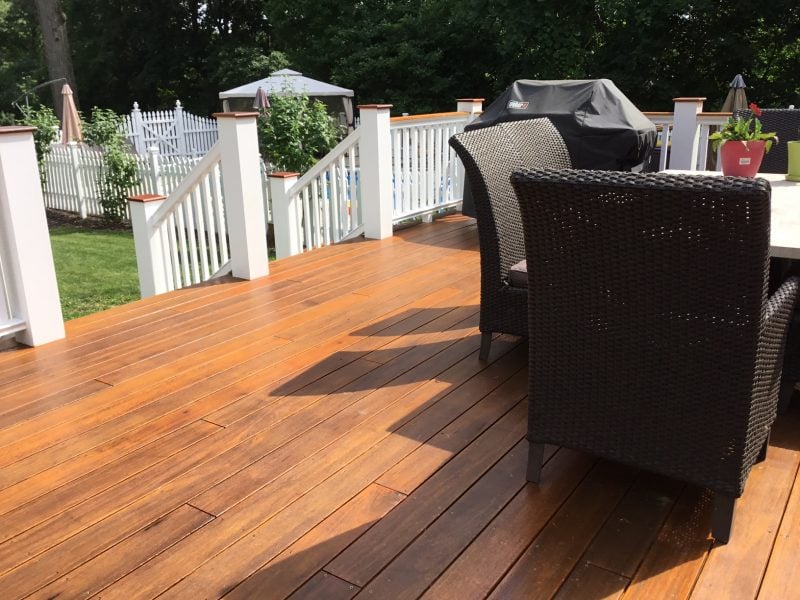 Monk's Method
For this project, we began by making a couple repairs to the railing caps. Some were either loose or had fallen off completely. Once the caps were back in placed and fully secured, we began sanding.
We palm sanded the decking, treads, and railings. This would ensure a smooth and even result. The deck was washed to remove the dust and allowed to dry completely.
Then we applied the reddish mahogany-colored stain. Again, this was applied by hand to ensure even coverage. Two coats of stain were applied for a rich color. The stain would also help protect the wood from the sun and moisture.
The new stain really warmed up the deck and gave the railings a pretty contrast to the white balusters.
The outdoor furniture was moved back out and this deck was ready for summer!
More Decking Projects
Monk's can refinish any natural wood structure from decks, porches to hardwood flooring. If you are considering a new deck, Monk's carpenters can build you one. Or, if you are considering refacing your wood deck with composite, we've can take care of that, too.
In addition, we build porticos and repair exterior trim. If it's made of wood or composite, we can repair, replace or build it custom for you!
If you'd like a free estimate for a deck refinishing project, then please give Monk's a call at 973-635-7900. Schedule your free estimate today!