Project Info
Location: Florham Park, NJ
Scope of Work: Front Door Install, Carpentry, Door Staining
At one point in time, this front door and entryway perfectly suited this brick Colonial home. However, the front door was leaky and the homeowner didn't care for its dated style. We were brought in to update the front entryway of this Florham Park, NJ home. Our carpenters and painters had upped the curb appeal of this home in a matter of days.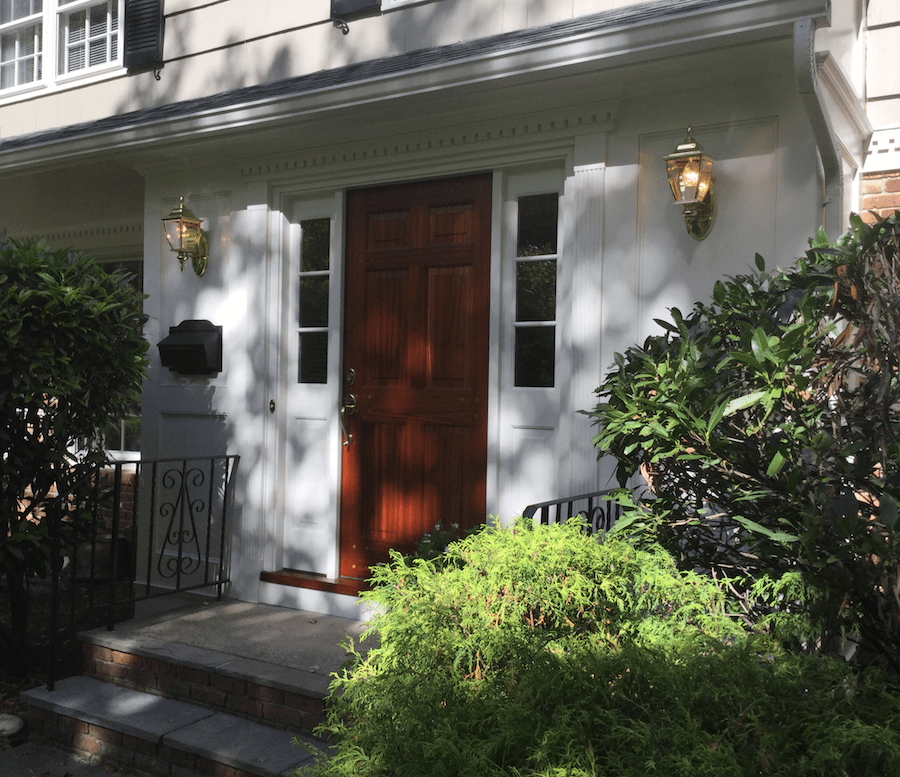 Monk's Method
To begin this new front entryway project, we first took measurements and discussed the project with the homeowner. Then, the homeowner came into our Morristown showroom to select her new front door. She chose a natural wood door made of durable and beautiful mahogany.
Once the new door was on site, we were able to begin the project. We removed the existing door, frame, and panel surrounds. Our carpenters rebuilt the panels and frame, and they hung the front door. After the carpenters had completed their step, our painters applied a Sikkens stain to the mahogany door. This gave the door a rich, deep color, while also providing it protection from the sun and rain.
This new front entryway is updated, energy-efficient and lovely!
More Door and Front Entry Projects
If you are considering renovating your front entry, give us a call. An Estimator will come to your home and discuss some options, giving you a written price for all the possibilities. To see how a new door or front trim can change the look of a home, take a look at some of our other front entry projects. This front door refinishing project in Mountain Lakes was a one-day project that really made an improvement. Or for a more dramatic change, replace your front door and add a portico, like we did at this Chatham NJ home.
If you'd like a free estimate for your entryway project, then please give Monk's a call at 973-635-7900. Schedule your free estimate appointment today!