Project Info
Location: Florham Park, NJ
Scope of Work: Front door installation, painting
A red front door has meant various things to various cultures throughout history. To the Scots, a red door means that they have paid off their mortgage. To the Chinese, red is lucky. Applying the principles of feng shui, a red door invites positive energy and good luck into the home. Historically, in America, a red front door has been a welcoming symbol to travelers. During the Civil War, red front doors were a way to guide escaped slaves through the Underground Railroad.
For this Florham Park, NJ home, a new red front door was added to improve the home's curb appeal. It most certainly says "welcome" to guests.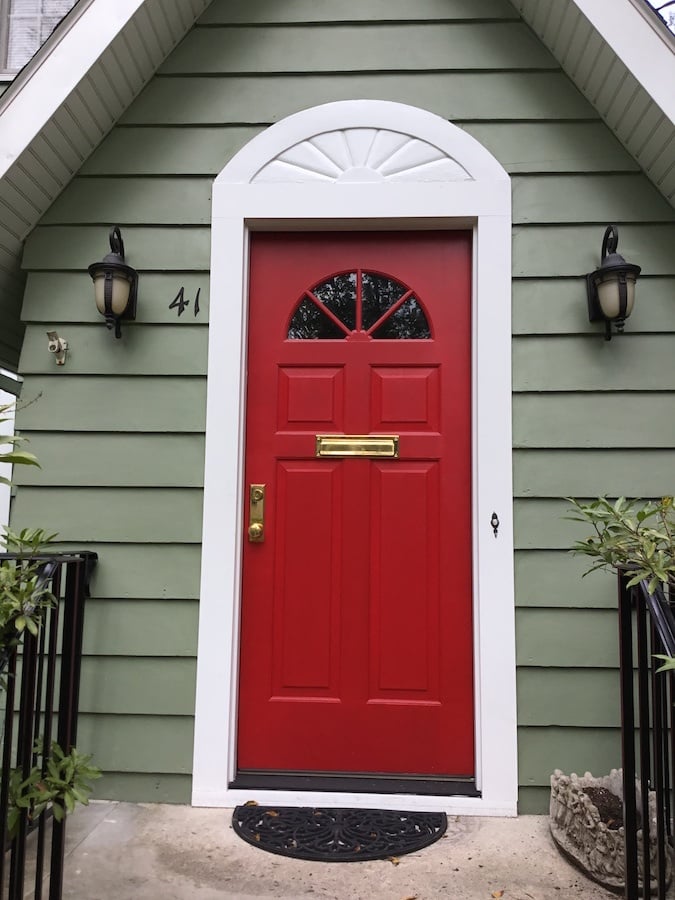 Monk's Method
A front door replacement is a quick way to add curb appeal to your home. A new door can also improve energy efficiency by reducing draughts. These homeowners wanted a similar door style, but one that would eliminate draughts, therefore eliminating the need for a storm door.
After the Estimator came out and took measurements, the homeowners met with a Door & Window specialist at our Morristown showroom. They selected a solid wood door that we ordered and delivered. They also selected a special brass mail slot that would create a patina as it aged.
Our carpenters installed the new wood front door. Then, our painters primed the door with an oil-based primer. Once dry, they followed the primer up with two coats of exterior paint.
Now, this front door is a very welcoming bright red. No matter what it symbolizes to you, it is very pretty!
More Exterior Door Projects
Monk's carpenters can handle any type of door upgrade. We can replace your interior or exterior doors in no time at all. If you want to create an entirely new doorway inside your home, or to the outside, we can also help. We'll handle everything from beginning to end.
See some of our door projects here.
If you'd like a free estimate for your custom shelving project, then please give Monk's a call at 973-635-7900. Schedule your free estimate today!