Project Info
Location: Boonton, NJ
Scope of Work: Front Door Replacement
The front door in this Boonton NJ house was not to the homeowner's taste. The red door with sidelights featuring frosted glass and gold inlays was not the statement that they wanted to make when welcoming guests to their home. In addition, the door was drafty. The homeowners decided to replace their front door and two sidelights. They shopped for a new front door and sidelights at our Morristown showroom. They selected a craftsman-style door in black featuring a dentil shelf. The sidelights were plain glass. For the hardware, a matching arts and crafts style with a hammered finish was selected. Monk's carpenters installed the new front door in one day.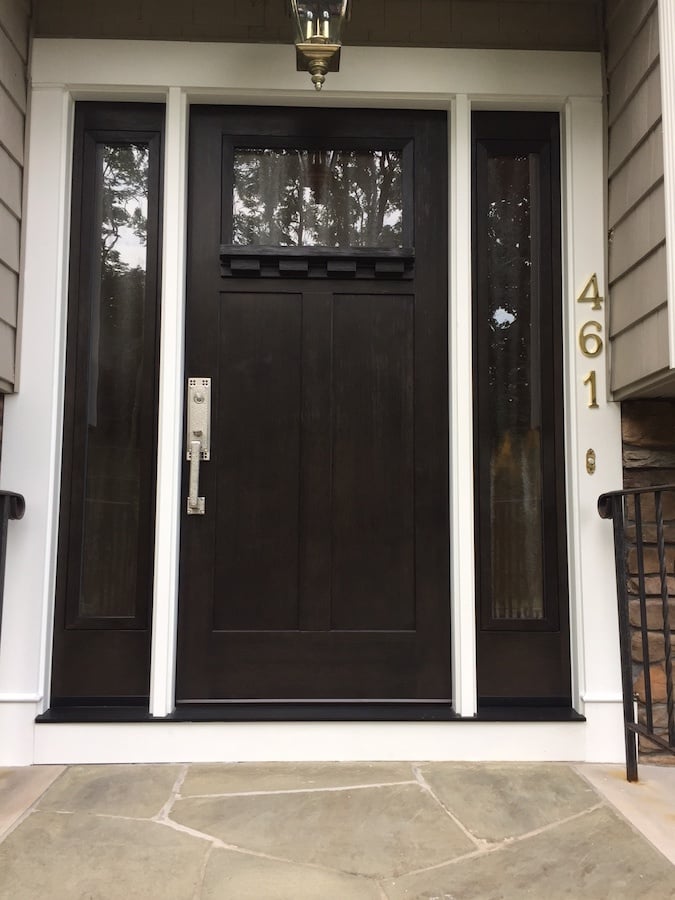 Monk's Method
Once the new front door and sidelights arrived, Monk's delivered them to the home. We began the project by removing the existing door and sidelights. The carpenters also removed the trim which was rotting at the bottom near the threshold.
The carpenters installed the pre-hung door and sidelights. Then they replaced the trim. We use composite material when replacing trim because it is much more durable and will wear for years. The trim between the door and sidelights was replaced, as well as all around the door including the threshold. Once the carpentry portion was finished, we painted the trim. Most pieces received a crisp white paint to provide a nice contrast with the dark door. The threshold was painted black.
The new hardware was installed and tested. Now this front door replacement in Boonton NJ was complete.
More Door Projects
Monk's can replace any exterior or interior door with the exception of garage doors. We also can construct new windows and doors where they weren't before. Additionally, we also refinish natural wood doors including wooden garage doors. Our Window & Door specialists in our showroom can also help you select products that fit your home style and budget.
To discuss your door options, call Monk's at 973-635-7900. We'll provide a free, written estimate for any type of door project.