Project Info
Location: Madison, NJ
Scope of Work: Carpentry and Exterior Painting
The quaint full-width front porch of this Madison, NJ home is a great feature. However, since the porch is constructed of natural wood, it does require regular maintenance. In addition, the homeowners wanted to make getting up and down the porch safer by adding railings to both sides of the stairs.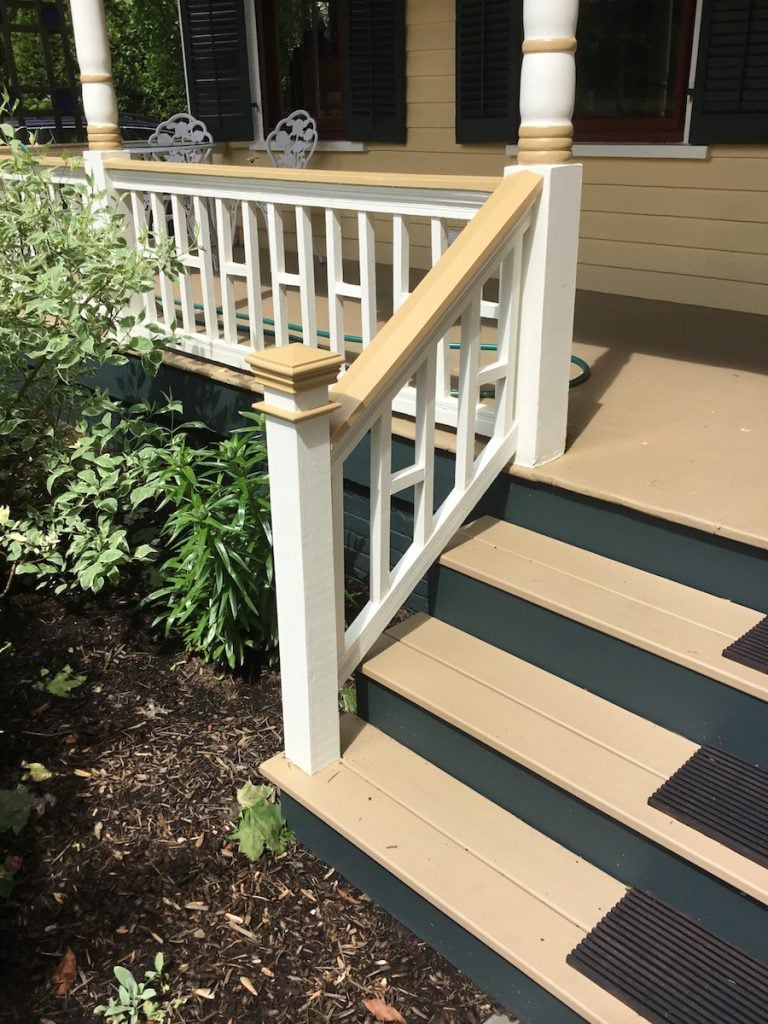 Monk's Method
Built to match railings are really the only option for this lovely custom-crafted front porch. Our carpenters used the existing railing system to inform how they created the new posts, post caps, rails and balusters that all matched perfectly. The new railings are safe and sturdy and look like they've always been there.
With a natural wood porch, rotting and warping happen often. In this case, the stairs all needed to be replaced. In addition, there were some skirt boards that also needed to be replaced. We replaced the rotted boards and rebuilt the stairs.
The floorboards were worn and the railings needed to be repainted. Once the carpenters were finished, the painters began their work. The raw wood received two coats of primer, sanding in between each coat. The rest of the structure was hand sanded and repainted. After two days of painting, this porch was in good condition.
Get out the lemonade and rocking chairs. This porch is spring and summer ready!
More Porch Projects
We've been painting and repairing homes and porches in northern New Jersey since 2007. For example, see this once ivy-covered porch restoration project we completed, or this front porch restoration project, also in Madison, NJ.
For additional exterior carpentry projects of all types, view our exterior carpentry gallery.
Please give us a call at 973-635-7900 to schedule a free estimate. You'll discuss your project with an Estimator, and receive a written quote on the spot.