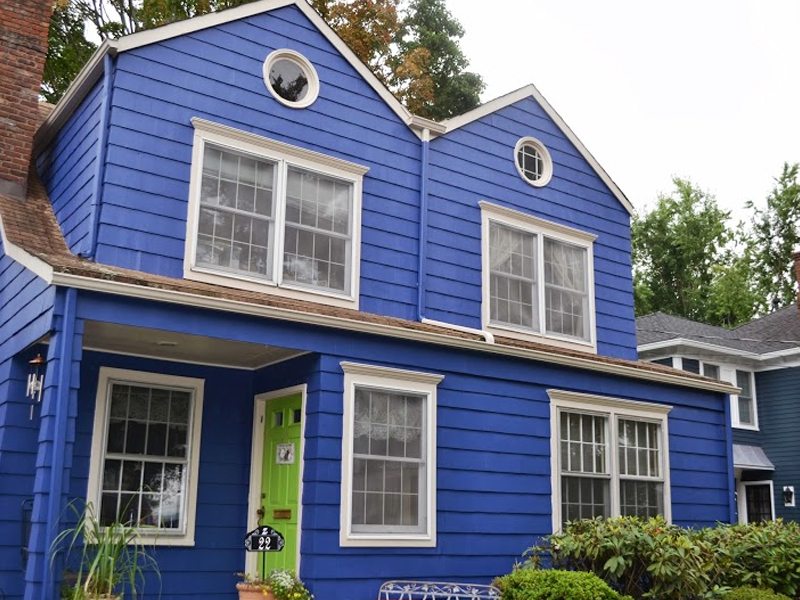 Monk's Method
These Madison, NJ homeowners had worked with our team at Monk's nine years ago. They were so satisfied with the job we did back then that when their home needed some more work they didn't hesitate to call us back!
The homeowners wanted to dress up the front of their home. A vibrant new paint color was chosen and our team at Monk's performed the routine exterior paint job that our company is so often praised for. First the entire house is sanded and cleaned in preparation for the primer. Next all surfaces are given a coat of primer. Once primer is in place our team applies two coats of paint. A new exterior paint job is a great way not only to drastically change the color of your home if you wish (as these homeowners did) but also to help fortify your home and add protection against the elements. Besides the exterior paint job these homeowners had also imagined another change that could help dress up their home's exterior. These homeowners asked Monk's to create custom trim and crown molding for their home's windows. Of course, our team was happy to oblige and our team of skilled carpenters went to work on the new window fixtures. Crown molding is the type of molding that sits on the top of a window, creating an architectural detail which makes the window more interesting. Our team crafted custom trim and crown molding pieces for each window of this Madison home. Along with the new paint job, these new moldings greatly helped the home's exterior come to life in a new way. With a vibrant new paint job and new custom built window trim and crown molding this home 's exterior was spectacularly upgraded- and only in six days! Another great job completed by Monk's!
Learn more
More Projects: Exterior Carpentry
Other Types of Work: Bay window replacement, Garage and front door refinishing project.
If you are considering exterior painting, or crown moldings for your home we would like the opportunity to tell you why we think we are the best exterior painting and carpentry contractor in Madison, NJ 07940. To discuss your project and receive a free estimate, call 973-635-7900 today.