Project Info
Scope of Work: Deck and Trellis Staining
Location: Madison, NJ
As with all pressure-treated decks, the sun and moisture require a regular maintenance schedule for the structure. This wooden back deck was due for a little TLC. The existing stain was almost non-existent, exposing the wood to the elements. Monk's painters restained the structure, as well as the adjoining trellis, to protect the wood. The new stain also made the backyard deck look great.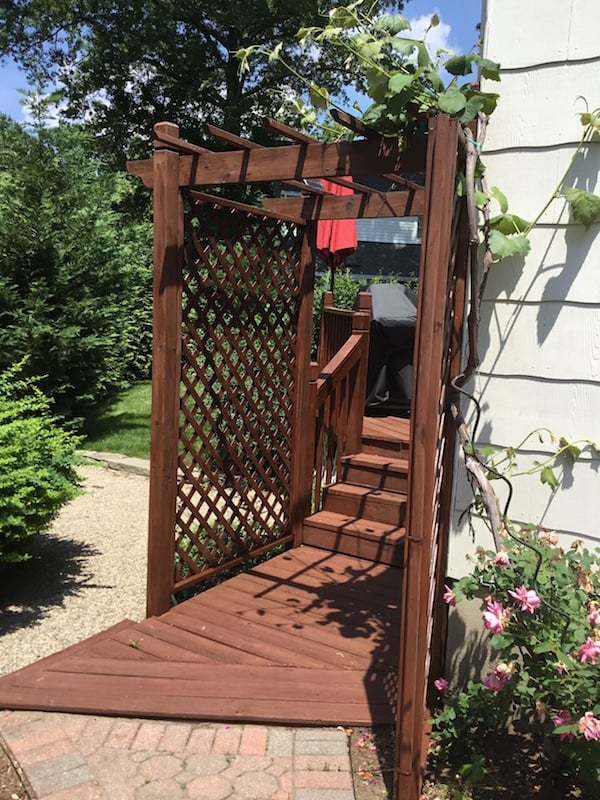 Monk's Method
This project took 2 days. Since there was so little existing stain left on the wood, we didn't need to apply a paint stripper. Instead, we began by pressure-washing the deck and trellis.
Once the structure was dry, the painters sanded everything. Light hand-sanding was done to smooth the surface and expose the bare wood so the stain would adhere. After the sawdust was removed, the solid stain was applied. Since the entire deck and trellis is made of pressure-treated wood, all surfaces were stained. This gave the multi-level structure a cohesive appearance.
The brown stain with red undertones is a natural look and complements the green grass and plantings that surround the deck and trellis.
More Exterior Staining Projects
From exterior stair staining to porches and decks, Monk's painters can improve the look of your home's exterior. These "small" projects will take up your entire weekend if you DIY it. Let Monk's painters take care of it so you can enjoy your days off.
To see other exterior staining projects, check out this deck refinishing project in New Vernon NJ or this deck refinishing project in Mount Tabor. In addition, Monk's painters can paint your home's exterior as well as any outbuildings, wood fences, or barns.
If you'd like a free estimate for an exterior paint or staining project, then please give Monk's a call at 973-635-7900. Schedule your free estimate today!