Project Info
Location: New Vernon, NJ
Scope of Work: Deck Refinishing
We provided a number of exterior home improvements at this New Vernon home. One of which was a multi-story deck refinishing project. The natural wood deck was mildewed and the stain had worn off in sections of the deck. A complete deck refinishing project would soon have this natural wood deck looking like new.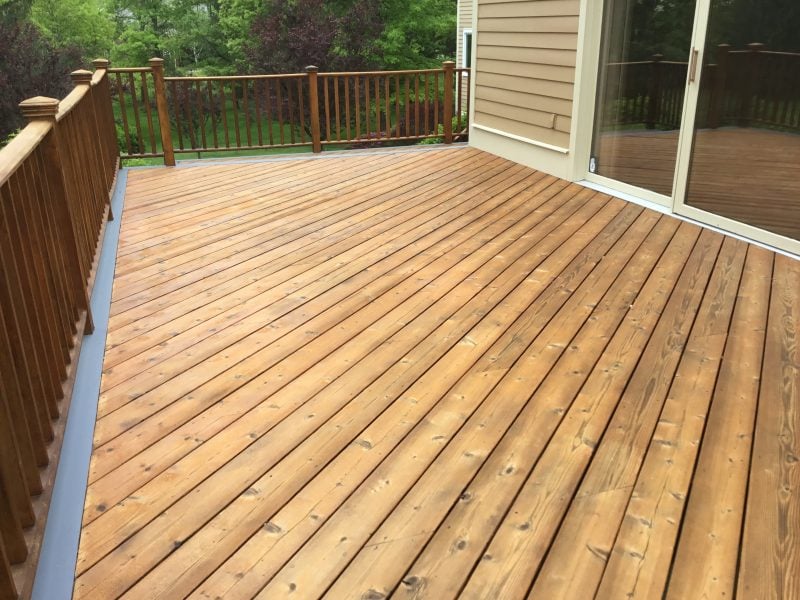 Monk's Method
We began by power washing the entire deck. This removed the mildew and most of the old stain.
Once the deck was dry, we began sanding. We sanded the decking, railing, balusters, stairs and fascia. This is an important step which allows the wood to soak up the new stain.
Afterwards, a stain was applied by hand. We began with the railings and balusters and worked our way down the deck. Once the entire deck was stained and dried, we added a blue painted stripe around the edge of the decking.
In addition to this deck refinishing project, we also repaired rotted trim around the house and repainted the home with solid stain.
You can also see the three story window replacement we completed for this New Vernon home.
After these three home improvement projects, this home was ready for summer!
More Decking Projects
Monk's can provide refinishing for any natural wood structure. If you are considering a new deck, Monk's carpenters can build you one. Or, if you are considering refacing your wood deck with composite, we've done that many times, too.
In addition, we build porticos and repair exterior trim. If it's made of wood or composite, we can repair, replace or build it custom for you!
If you'd like a free estimate for a refinishing or exterior carpentry project, then please give Monk's a call at 973-635-7900. Schedule your free estimate today!