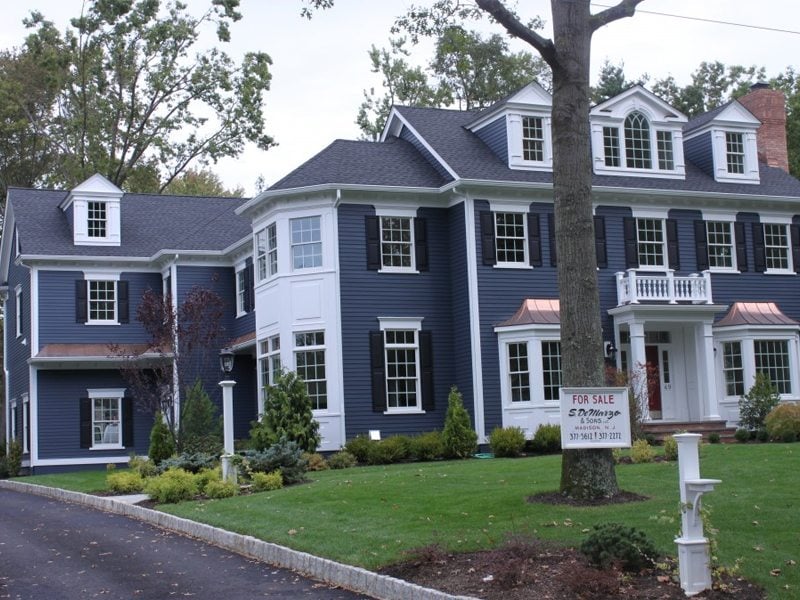 Monk's Method
The first big difference is that we are typically working in a giant mud pit. We prefer to paint the new homes prior to the landscaping being installed. On a normal painting job, we are the only contractor on site, but on a construction site there are typically 10-15 people from other companies working alongside each other at all times. We are lucky enough to part of the Demarzo team, and they use the same contractors for every new home. This helps create a comfortable work environment for everyone from the driveway installer to the painter.
A good builder constantly talks to his contractors about the building materials used on site and how to best prepare them. S. Demarzo and Sons use Azek for all their trim. The smudges on the bay window are where we filled the nail holes prior to painting. This house has cedar siding.
On a new construction home, the builder and the painter control everything about the exterior of the home. Cedar siding, Azek trim and quality topcoats of paint create a protective barrier over the house that will last years if maintained properly.
We always prefer to use Sherwin-Williams Duration paint for Azek trim. Duration was one of the first paints specifically recommended by Azek when it first came out years ago. We use an epoxy mix from Minwax to fill the nail holes in the Azek. This putty wears better over long periods of time in a material like Azek that expands and contracts more than wood. Even though the cedar siding comes pre-primed, we prime it again with Cover Stain from Zinsser. All of the nail holes and seams on the house have bare cedar exposed which can cause the cedar in those areas to bleed through the paint. Aura paint from Benjamin-Moore is another one of our favorite paints for the exterior. On this house, we used the Aura on the siding. It is hard to see from this picture, but we prefer to use the low lustre finish from Benjamin-Moore on the exterior siding to allow for easier cleaning in the future.
We don't like to tint our primer. Tinting the primer makes it harder to tell if you have missed an area or if you have two good solid coats of paint on your home.
The copper roof is covered with plastic to protect it from paint as these Chatham painters apply the first coat to the house.
This color is "Blue Note" from Benjamin-Moore and is one of the more popular colors because of how great it makes a home look.
Learn more
More Projects: Exterior Painting Gallery Other Types of Work:
If you are looking for a painter to paint your new or existing home, we would love the opportunity to tell you why we think we are the best painters in Chatham!
If you would like to see more of our projects in action, you may enjoy Sanding So Good You Can Stain it! or a home we completely sanded and painted in Montclair, NJ.
To discuss your project and receive a free estimate, call 973-635-7900 today.