Project Info
Location: Madison, NJ
Scope of Work: Mirror removal, painting
The clients just bought a new home and wanted to remove the mirrors and bookshelves from the walls and change the paint color. They also needed to fix floor and crown molding issues.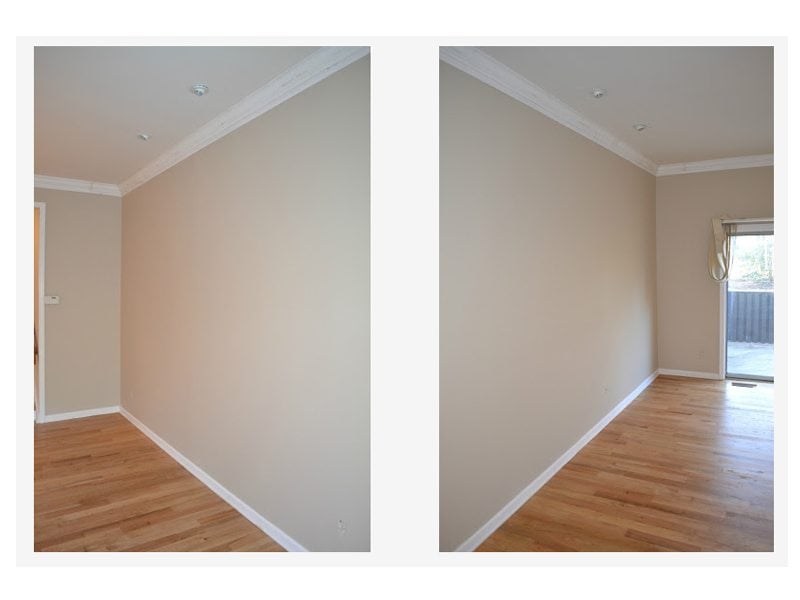 Monk's Method
As mentioned in the scope of work, there was a stain on the floor from the previous owner, they had left a rug over this spot.
The first step was removing the bookshelves and mirrors from the room. The mirrors had been doubled up, so we were surprised when we pulled back the mirror and found another mirror behind it.
With our initial estimate, we suspected that there would be carpet under the bookshelves rather than wood. We couldn't be positive until the bookshelves were actually removed, so we gave our clients two quotes, dependent on whether or not there was carpet under the bookshelves. We do everything we can to make sure there are no surprise costs during a project.
The marks on the walls are from removing the glue that was holding the mirrors to the walls. We had to smooth and repair the walls before painting them with the new color.
After painting the walls the new light brown color, the final step was to install crowning around the entire room that matched the existing white crowning. Crowning would be installed around the ceiling and the floor, as you'll see below.
Here you can see the white crowning we added along the edge of the floor. This picture also shows one of the spots where it used to be carpet (hard to notice, right?). We put wood in to replace the carpet and we staggered the wood so it doesn't look out of place. The result: The added wood blends right in with the rest of the floor.
These final two pictures show the finished walls with their new color and the new crowning running along the floor and ceiling.
Learn more
More Projects: Other Types of Work: custom built-in cabinet we made in Madison, crown molding, and interior painting we did in Basking Ridge.
If you are considering getting some interior work done on your walls or floors, we would like the opportunity to tell you why we think we are the best painting and carpentry company in Madison, NJ 07940.