Project info
Location: Madison, NJ
Scope of Work: Interior Painting, Floor Refinishing
This family wanted to take advantage of all the natural light that their converted porch offered them. However, the dark wall color brought the room down. Monk's took care of that by painting the room and also refinished the hardwood floors.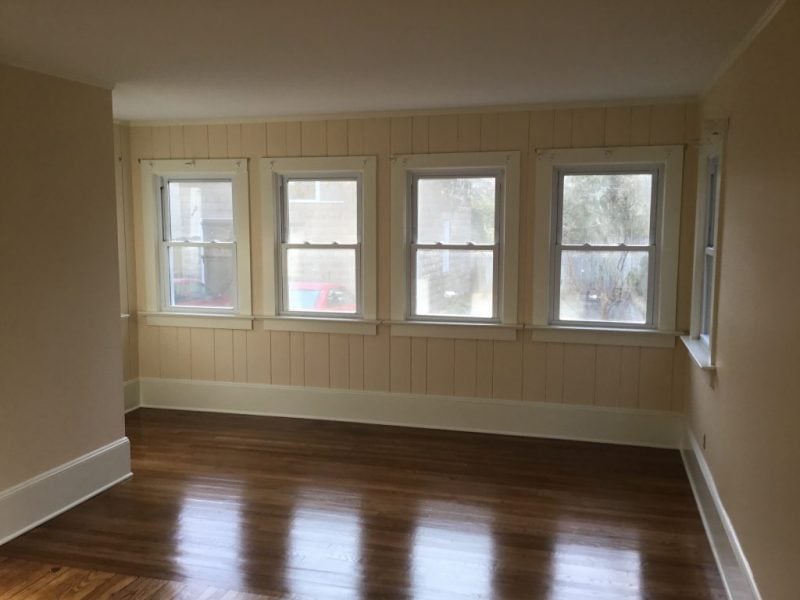 Monk's Method
A dark family room is great for movie watching, but that's about all. The dark olive wall color in this family room seemed to absorb all the natural light. Even on a bright sunny day, it was still dark in the room. The homeowners wanted a fresh look, so they asked us to lighten their wall color.
After everything was removed from the room, we began by painting the walls above the baseboards. This included scraping the peeling radiators and repainting them.
Once we finished painting the walls, we removed the wall-to-wall carpet. Most of the floor underneath was beautiful hardwood. Where it wasn't, we removed the existing plywood. Then we patched the area with matching hardwood planks. Afterwards, we sanded the entire room with our dustless sanders. At last, we stained and sealed the floor giving the entire area a cohesive look.
Finally, we finished the project by painting the baseboards. We painted these last because the sanding equipment can mark them up.
Now the entire room is bright and welcoming.
We are often asked to perform floor refinishing and interior painting at the same time. This makes sense because you only need to move your furniture once, and your room will already be inaccessible, so you may as well get everything done at one time.
To see some other interior painting and floor refinishing projects, check out this project in Morristown, NJ or this Hardwood Floor Installation and Refinishing project in Westfield, NJ.
Call Monk's at 973-635-7900 to schedule your free interior painting and/or flooring estimate today!