Project Info
Location: Madison, NJ
Scope of Work: Interior Painting, Wainscoting installation
We gave the current homeowners a fresh look to their dining room by brightening up their dark space.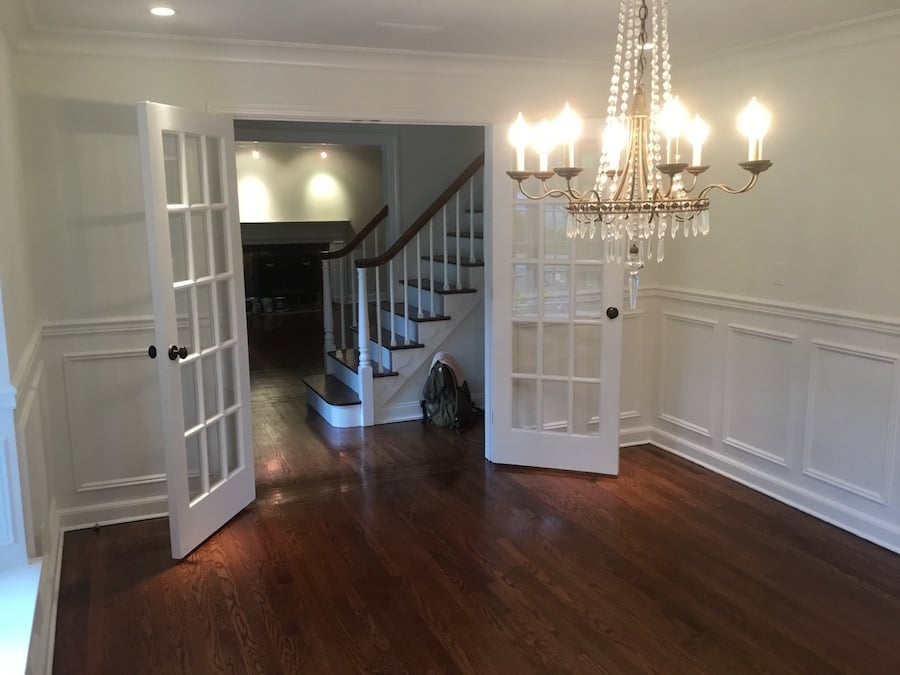 Monk's Method
The dining room is a great place to feature bold wall colors. It's typically a smaller room with lots of windows and doorways, so there is normally plenty of natural light. And since the decor is usually minimal, the wall color can really add character. The previous owners of this Madison NJ home did choose a bold color for their dining room. They may have gone a bit too far, by painting the room a very dark brown, almost black, color.
The first step in renovating this dining room is to add picture-frame wainscoting under the chair rail. Picture-frame molding is a quick and inexpensive way to add character and formality to a room. Before any painting was started, a carpentry team custom cut and installed all the raised panel wainscot.
After the carpentry was complete, the painters began their work by prepping the walls and patching any holes. Since the existing wall color was so dark, a primer was required to prevent the dark wall color from being visible underneath the new, much lighter shade.
Once the primer had dried, we applied two additional coats of paint to the walls, and one coat to the trim.
In addition to the dining room, we also painted the living room, bathroom, office, foyer and downstairs and upstairs hallway. New homeowners appreciate our well-organized painting teams who can accommodate larger jobs within tight timelines (such as between a new home closing and move-in day). Now, this home is fresh and clean and ready for its new family!
More Interior Painting Projects
From walls and trim to cabinetry and built-ins, we can paint your home beautiful. If you are struggling to pick paint colors, we also offer a professional color consult from a Sherwin-Williams representative. Speak with your Estimator to learn more.
To see some other interior painting projects done by Monk's, check out this basement painting project or this whole house interior painting project we provided to get the home ready for the new owners.
If you'd like a free estimate for your interior painting project, then please give Monk's a call at 973-635-7900. Schedule your free estimate appointment today!