Project Info
Location: Morristown, NJ
Scope of Work: Kitchen Makeover
This kitchen was fairly new and well laid out, but lacked food storage space and the homeowners weren't keen on the style. Rather than replacing everything, we cup-sprayed the kitchen cabinets white and replaced the backsplash. We also added a full-length pantry with plenty of pull-out shelving.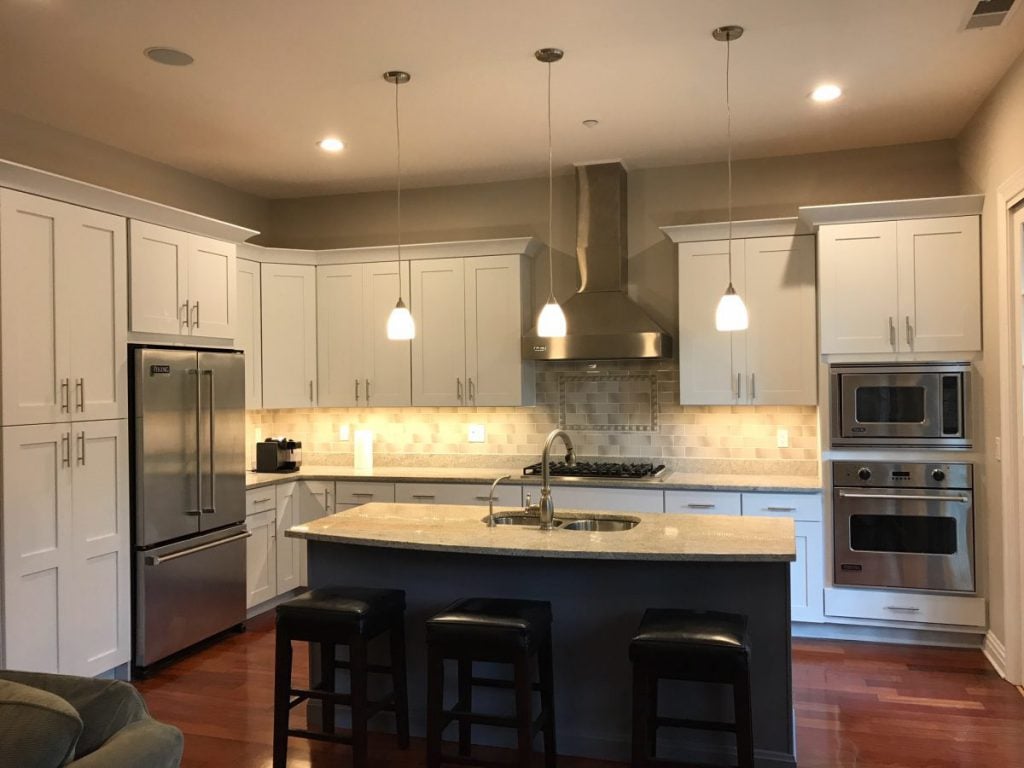 Monk's Method
Working with a Monk's in-house Designer, the homeowner's found a cabinet that matched the look of their current cabinets. The new pantry cabinet was custom built to fit perfectly in the available space. The pantry was ordered unfinished. This way, the painters would paint all the cabinetry with the exact same color so everything matched perfectly.
The remodeling crew installed the new pantry and removed the existing backsplash. The crew also removed and replaced the sheetrock behind the backsplash. All the doors and drawer fronts were removed, sanded and primed. Painters applied two coats of paint to the cabinetry. They sanded in between each coat.
The crew installed the new backsplash tile with accent detail behind the stove. The cabinet doors and drawers were replaced and the hardware was reinstalled.
In a short amount of time this kitchen had the storage and look the homeowners were after.
More Kitchen Makeover Projects
With a kitchen makeover project plumbing and electric doesn't change, so no permits or inspections are required. This shortens the duration of the project while also reducing costs. However, makeovers still make a great visual impact. Just take a look at this kitchen makeover in Denville project that we completed. What a difference! Or how about this gorgeous kitchen makeover project in Chester?
If you are considering a kitchen renovation or remodeling project, just give us a call at 973-635-7900. We'll schedule an appointment for a free estimate where you can discuss your plans with an Estimator.