Project Info
Location: Randolph, NJ
Scope of Work: Full Kitchen Remodel
This home had a fairly traditional and common U-Shaped kitchen with an adjacent eating area. The kitchen also included a partial wall where the refrigerator was housed, as well as a small desk area off the main kitchen area. The homeowner wanted to consolidate her kitchen components into one larger space with a more open feel.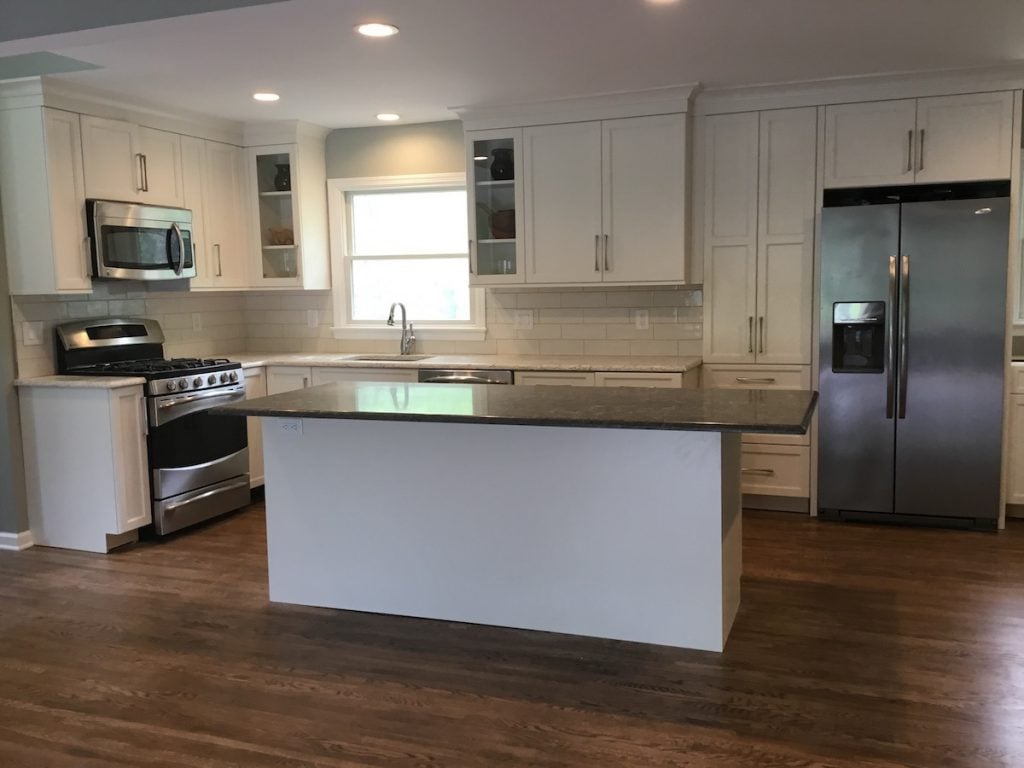 Monk's Method
Working with her Monk's Project Manager and Designer, she was also to get the kitchen she wanted that was beautiful as well as fully functional.
In order to maximize the kitchen work area, a fully reconfigured space was created. We will replace the U-shaped cabinetry with an L-shaped kitchen including a large island. This would reduce the space for a kitchen table, but instead allow for countertop eating at the island.
We planned to remove the partial wall around the entrance to the basement. This would give more space around the island and also create a more open-plan layout. We also designed the kitchen to include reconfigured and replaced windows.
Monk's demoed the U-Shaped kitchen, as well as portions of the wall between the kitchen and living room and kitchen and dining room. The flooring crew then sanded the hardwood floors. After the cabinetry was installed, they will finish staining and sealing the hardwood floors.
We installed the new windows, followed by the lower cabinetry. Then we installed the remaining cabinetry, followed by the new countertops. Finally, we laid the white, larger format subway tiles which finished off the project.
What once was a slightly disjointed space is now an upgraded and properly flowing prep and eating area. This Randolph NJ kitchen remodel greatly improved the flow of the home.
More Kitchen Projects
Monk's Designers and Project Managers can help with a simple kitchen makeover, where you are swapping out a countertop and backsplash, for example. We can also help with these types of kitchen remodels that require a complete reconfiguration. We'll design your layout, cabinetry configuration, and help you select and coordinate all your materials including countertops, tile, hardware, and fixtures. Our Design services are always free.
Plus, your Project Manager will secure permits and manage all the tradesmen. We order, deliver and install.
If you'd like a free estimate for a home improvement project call us at 973-635-7900. Schedule your free estimate today!