If you are building a new home or considering a kitchen remodel, there are many design options for the most important room in the home. We've outlined the most popular kitchen layouts, along with examples of kitchen remodels we've completed in the particular design. Here are some New Jersey kitchen remodel ideas to help plan your kitchen project.
5 types of kitchens
L-Shaped Kitchen
A smart design for small and medium sized kitchens. The L-shaped kitchen design is an efficient layout that facilitates a work triangle to the preparation, cleanup and cooking areas. This versatile kitchen layout consists of two adjoining walls that are perpendicular, forming an L. One "leg" of the L is twice the length of the other. Dining areas and multiple work zones can easily be added to this layout.
L-Shaped Kitchen Examples
Horseshoe or U-shaped kitchen
Traditionally, this kitchen layout consists of three walls of cabinetry and appliances. It is an efficient design, provided that the most used appliances and workspace form a triangle of space. In this design, everything you need is in easy reach.
For new kitchens, this design has evolved from three walls to two walls with an island forming the third "wall." Homeowners are choosing this configuration more often since it allows for workspace all around the island. Also, traffic can move around the island.
Horseshoe or U-Shaped Kitchen Examples
Galley Kitchen or Corridor Kitchen
This kitchen layout is a long, narrow shape. Ideal for smaller spaces, but not ideal for multiple cooks. The galley kitchen layout must be properly planned or it can be incredibly inconvenient. An experienced kitchen designer will carefuly consider the dishwasher, oven and cabinet door placements.
Some thoughts for corridor kitchens include open shelving or door-less cabinetry. This opens up the space and also makes items easier to access.
Galley Kitchen or Corridor Kitchen Examples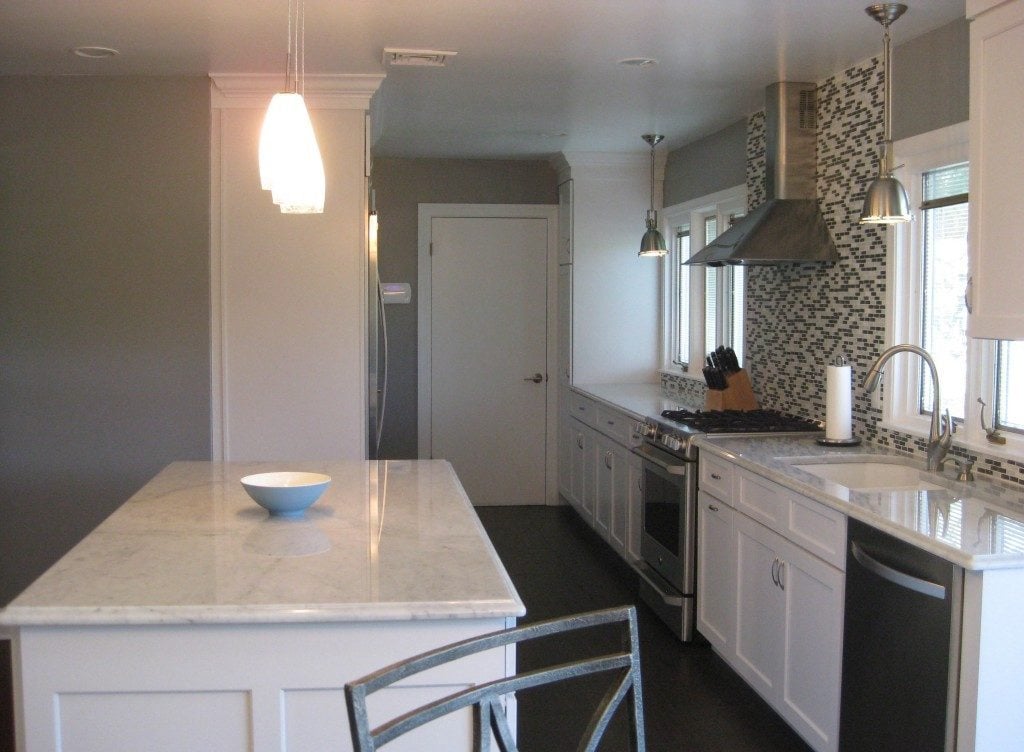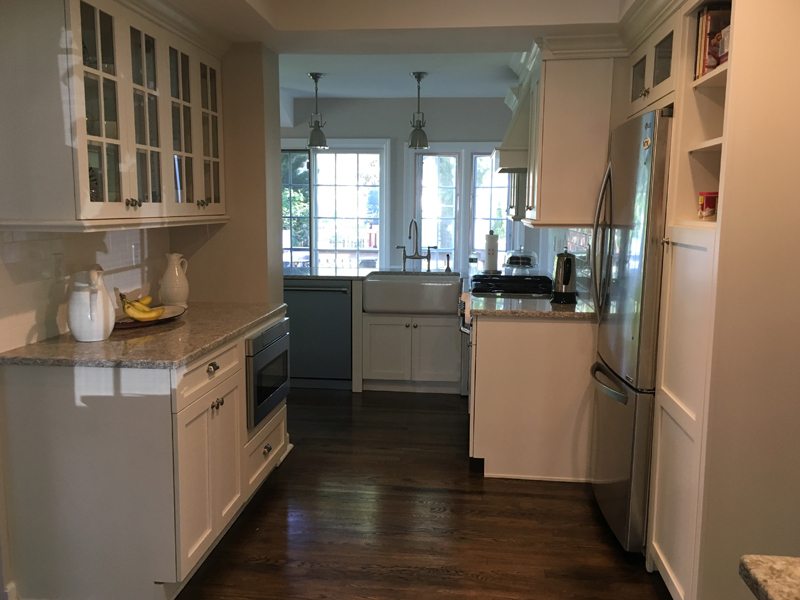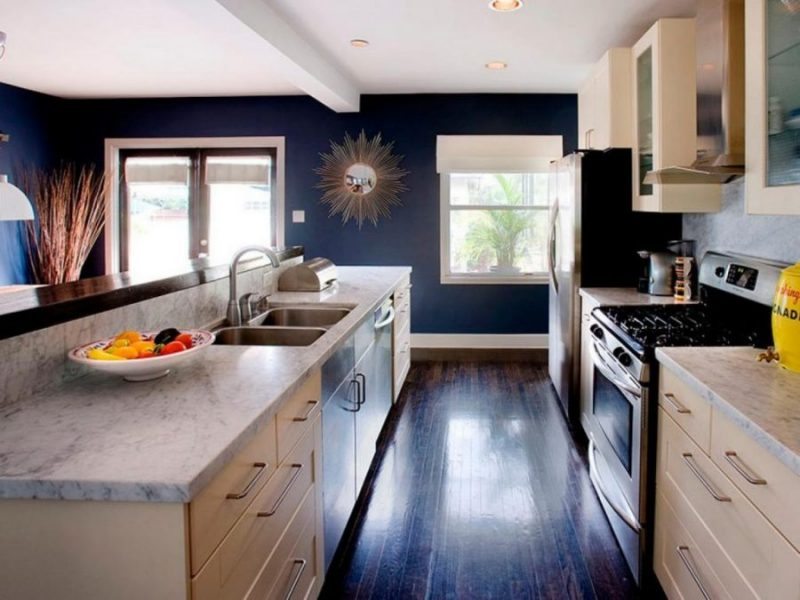 Island Kitchen
Everyone is familiar with a kitchen island. However, you may not be aware how versatile this kitchen design can be. About the only thing consistent with any island is that it will add countertop space to a kitchen.A contractor can create a fixed island, as well as one that is mobile. An island can include sinks, appliances, and even beverage coolers. Some islands are configured using base cabinetry that matches the rest of the kitchen. Many times homeowners choose to select a different color cabinetry base for the island. Some islands feature tiered countertops that provide a bar-height seating area. Many offer counter-height seating directly across from the prep area. Another popular trend is to extend the island to create an attached, full sized kitchen table.
Island Kitchen Examples
Peninsula
A peninsula kitchen features an extended set of lower cabinets and countertop that are anchored to another wall of cabinetry. It is a popular way to add countertop space and cabinetry storage to a kitchen that doesn't have the square footage for an island. A peninsula is also a great room divider while keeping the space visually open.
Typically, a peninsula is used as a storage area for pots and pans and the extra countertop is used for preparation. Or you could use your peninsula to house a cooktop.
Peninsula Kitchen Examples
In order to make the most out of your space and your kitchen remodel, call Monk's at 973-333-4719. Our experienced Project Managers and in-house Kitchen Designers will create a smart and beautiful kitchen that you'll love for years to come.