Project Info
Location: Morris Plains, NJ
Scope of Work: Attic Renovation, Carpentry, Interior Painting
Many people keep their attics unfinished, using them merely as an extra storage space. With proper carpentry work it is possible to turn this space in your home into a new and livable space. Over three weeks, our team completely refinished this attic to be used as a bedroom.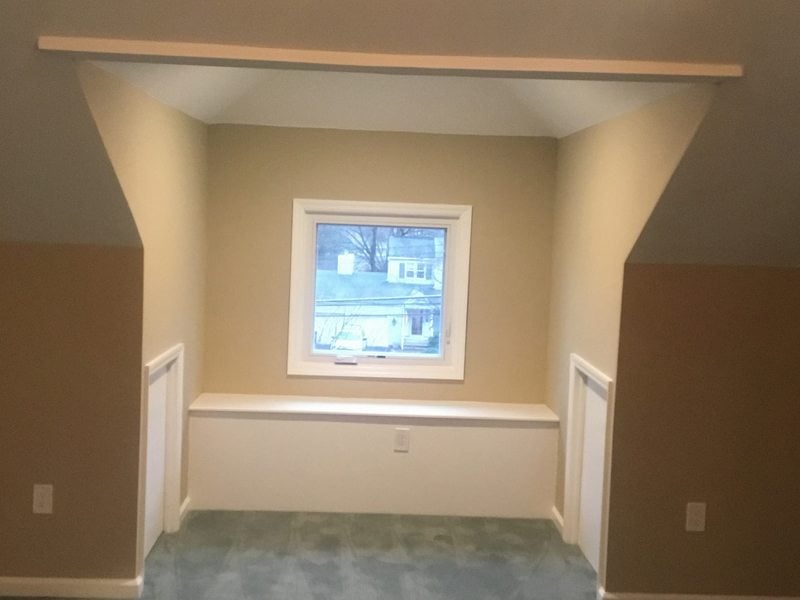 Monk's Method
To begin this remodeling project our team at Monk's Home Improvements framed out the entire attic space.
Closed cell spray foam insulation was used to completely insulate the space and make it a suitable living space.
The existing window was removed and replaced with a new window selected and purchased from the Monk's showroom.
A custom built in window bench was built by our team of carpenters. This bench was built out of birch wood.
All new lighting was installed, as well as brand new smoke detectors.
New closet doors were also selected and purchased from Monk's.
This refinishing project added access doors to the attic's crawl space. New sheetrock was installed throughout the entire attic. The entire space was treated to a full interior paint job.
A new railing was also installed.
After three weeks of work by our team at Monk's Home Improvements this attic was completely transformed and ready to be used as an additional bedroom..
Learn more
More Projects: Remodeling gallery Other Types of Work: custom built in unit, dining room interior painting project, foyer and stairway painting.
If you are considering an attic renovation project for your home we would like the opportunity to tell you why we think we are the best attic renovation contractor in Morris Plains, NJ.
To discuss your project and receive a free estimate, call 973-635-7900 today.