Project Info
Location: Basking Ridge, NJ
Scope of Work: Carpentry, Deck Repair
Years of exposure to the elements had caused this deck to rot. This deck was situated on top of the garage. When it was discovered that the roof beneath this deck was leaking it seemed like the perfect time to rip up the existing deck and make all the necessary repairs. In just six days, our team had the deck rebuilt and repaired.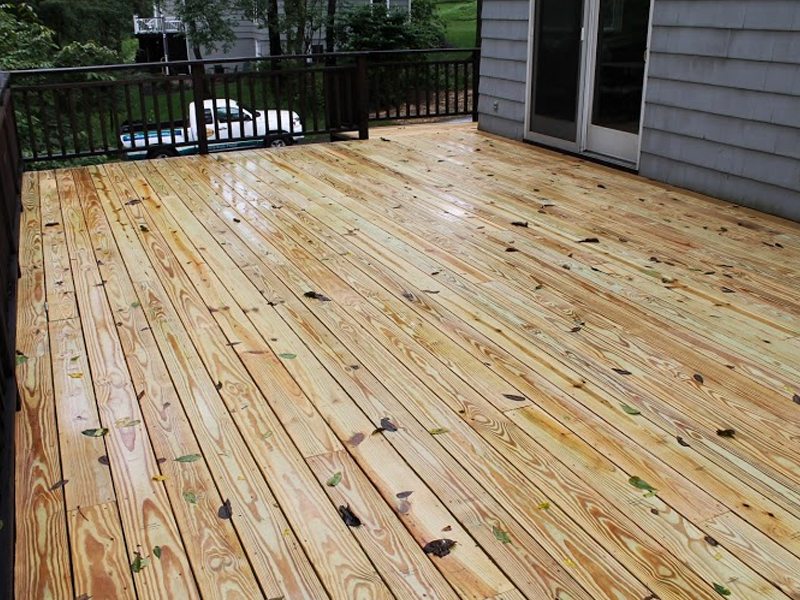 Monk's Method
To begin this deck repair project our team spent an entire day dismantling the existing damaged deck. This deck sits on the garage roof. The roof beneath the deck was leaking and in need of repair. The deck was dismantled to be repaired, but also so that the garage roof could be accessed and repaired. The entire deck floor and joist were removed in one day so that the roof could be repaired.
The joist was rebuilt with pressure-treated lumber. Pressure-treated lumber is an excellent choice for exterior projects like a deck. It is sturdy, but is also treated to prevent water-related damage.
The original deck railing had suffered damage and our team had to make repairs to it before it was reattached to the frame.
New pressure-treated lumber flooring was installed.
New gutters were installed. Our team cleverly installed trap doors to access the gutters from the deck so that they could still be cleaned, despite the fact that the deck was sitting on top of the roof.
The homeowners chose not to have the deck stained because they wanted a more natural look. In only five days our team had this deck looking as good as new!
Another job well done by our team at Monk's!
Learn more
More Projects: deck projects Deck Portfolio. Other Types of Work: hardwood floor refinishing job tile backsplash tree house
If you are considering building a deck for your home we would like the opportunity to tell you why we think we are the best carpentry contractor in Basking Ridge, NJ 07920.
To discuss your project and receive a free estimate, call 973-975-0044 today.