Project Info
Location: Basking Ridge, NJ
Scope of Work: Carpentry, Deck Construction, Sliding Glass Door Installation
Our team was called in to build a brand new deck for this home. In only ten days our team had installed a new composite deck; transforming this backyard into the perfect place to entertain and relax!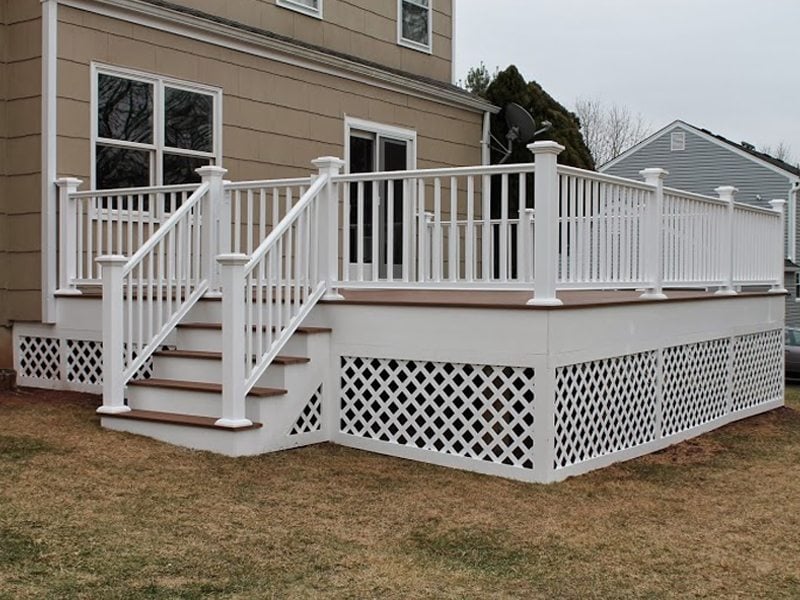 Monk's Method
When you add a deck to your home you are not only increasing the value of your home and utilizing your backyard, but you are also creating a place for friends and family to gather for years to come. Whether you want to host a barbecue or relax with a book in the sun, adding a deck to your home provides endless possibilities.
To begin this project our team installed brand new footings. Holes were dug 36 inches deep and filled with concrete. The footings, like the joist and all other components of the framework, were built with pressure-treated lumber. Pressure-treated lumber is an excellent choice for exterior projects because it is sturdy, but also moisture resistant. This is particularly important for the framework of the deck. If the framework were made out of regular wood the moisture of the ground would cause it to rot and deteriorate.
Our team at Monk's always takes every precaution available to protect your home. One of the most important parts of building a deck is making sure that ledger board is installed with proper flashing. For this project our team installed 2″ x 8″ ledger board with copper flashing. The flashing acts as a barrier, preventing water from dripping into the seams of your house. Once all of the framework was complete our team could install the composite floorboards and railings.
While our team built the framework of this deck out of pressure-treated lumber, composite was used for all of the floorboards and railings. Composite is a great choice for exterior projects because, like pressure-treated lumber, it is water-resistant. In addition to a crisp look, and is also easy to clean.
Composite railings and floorboards are available in a variety of colors so you can be sure to find a color that works with the style of your home.
A white composite apron was also installed for this deck project. In order to make the design of the deck look cleaner, and to keep pesky animals from living underneath, our team installed custom-built lattice. This latticework was built out of pressure-treated wood.
Great Idea for Kids and Pets
Once all of the floorboards and railings were in place our team built a gate. A gate like this is a great way to ensure safety for children and pets.
In order to easily access the deck, one of the home's windows would be removed and a sliding glass door would be installed in its place.
In only ten days our team at Monk's had transformed this Basking Ridge, NJ home's backyard with a beautiful new composite deck!
Learn more
More Projects: Deck Gallery Other Types of Work: Hardwood floor refinishing job, Tile backsplash, Tree house
If you are considering building a deck for your home we would like the opportunity to tell you why we think we are the best carpentry contractor in Basking Ridge, NJ 07920.
To discuss your project and receive a free estimate, call 973-635-7900 today.