Project Info
Location: Basking Ridge, NJ
Scope of Work: Interior Painting, Kitchen Cabinet Painting
Remodeling a kitchen can be cost-prohibitive, so we offer a fabulous alternative. In five days our team transformed this kitchen by painting the existing cabinets.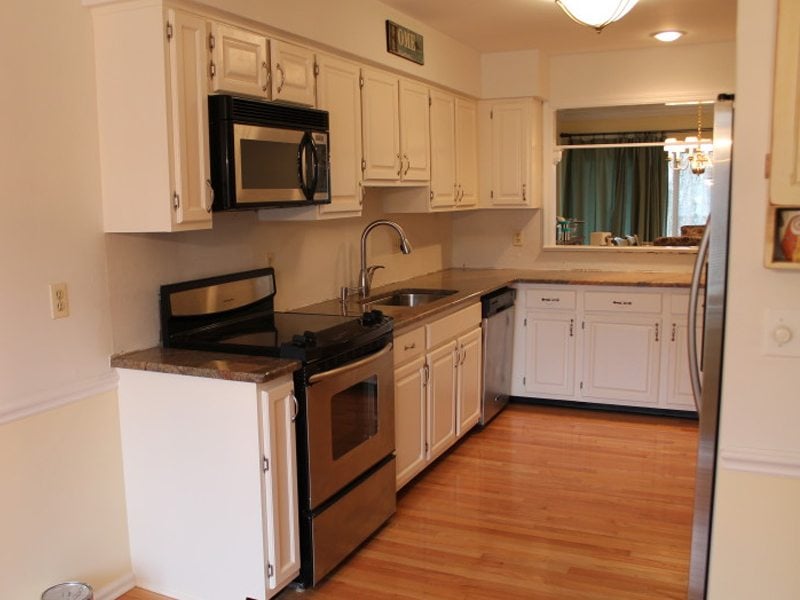 Monk's Method
New kitchen cabinets are not always in every homeowners budget; especially when the wish is only for a new aesthetic. Our team can repaint your cabinets, completely changing the look of your kitchen. The best part is that with our cup spray finish technique you will never see a roller mark.
Once the cabinets were prepped the entire kitchen was thoroughly taped off; this creates our spray booth. Once everything is sealed and protected our team can begin the painting process.
All of the cabinets are dismantled so that every surface can be reached and painted.
For this particular project our team uses a spray cup finish technique, ensuring that there are no roller marks, leaving the cabinets with a smooth finished look. Before any paint is applied the cabinets are sprayed with an alcohol based primer to create a bond for the paint that will be applied. Once the primer is dry Benjamin Moore Impervo paint is is sprayed on.
Our team will mix the satin impervo paint with Penetrol, a formula that will create an even better flow as the paint is sprayed and will further ensure that the finish is as smooth as possible.
After all of the cabinets are thoroughly painted our team at Monk's installs new hinges and hardware, and reassembles all of the kitchen cabinets.
In only five days our team transformed these Basking Ridge kitchen cabinets from aged wood, to crisp, freshly painted white.
Another great project completed by our team at Monk's!
Learn more
More Projects: Interior Painting Gallery
Other Types of Work: tile backsplash project , kitchen renovation.
If you are considering a kitchen remodeling project for your home we would like the opportunity to tell you why we think we are the best bathroom remodeling contractor in Madison, NJ 07940.
To discuss your project and receive a free estimate, call 973-635-7900 today.