Project Info
Location: Chester, NJ
Scope of Work: Kitchen Renovation
The owners of this Chester, NJ home wanted to remodel their kitchen, while keeping the same U-shaped footprint. They wanted the dark, dated cabinetry gone and replaced with something lighter and brighter.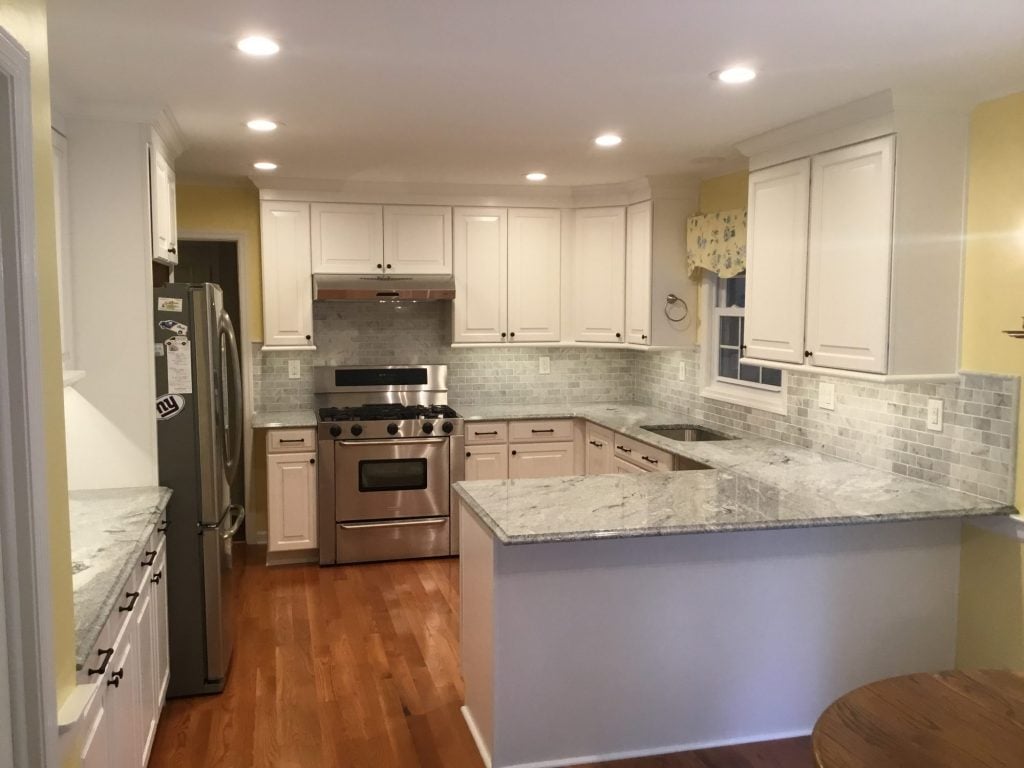 Monk's Method
To begin the project our team at Monk's completely removed all of the kitchen's existing cabinetry and soffits.
Then, brand new recessed lighting was installed in the kitchen.
The linoleum flooring was removed and new pre-finished hardwood floors were installed throughout the kitchen.
Then new white kitchen cabinets were put in, instantly brightening up the space.
Our team at Monk's helped the homeowners select the perfect style granite for their home. Granite countertops were installed throughout the kitchen.
The existing broom closet was modified by our carpenters. We added shelving so that the space could be used as a new kitchen pantry. This added a great deal of storage space.
Learn more
More Projects: We have remodeled many kitchens. To see a few related projects, visit these project pages: Kitchen Remodel, Tile Backsplash and Custom Hardware Installation, or Complete Kitchen Renovation.
Because we also have a Kitchen & Bath Showroom in Morristown, NJ, we offer our remodeling clients a one-stop shop. Designers are here to create your cabinetry layout and help you select countertops, tile, flooring and fixtures. All of our design services are complimentary and you are under no obligation.
To discuss your kitchen remodeling project and receive a free estimate, call 973-635-7900 today.