Project Info
Location: Madison, NJ
Scope of Work: Hardie Plank Siding Installation, Trim Replacement, New Window Installation, New Door Installation
Decades of sun exposure had turned these natural cedar shingles to an unattractive color. This three-week project would result in new siding, new trim, new windows, new French doors, and new gutters.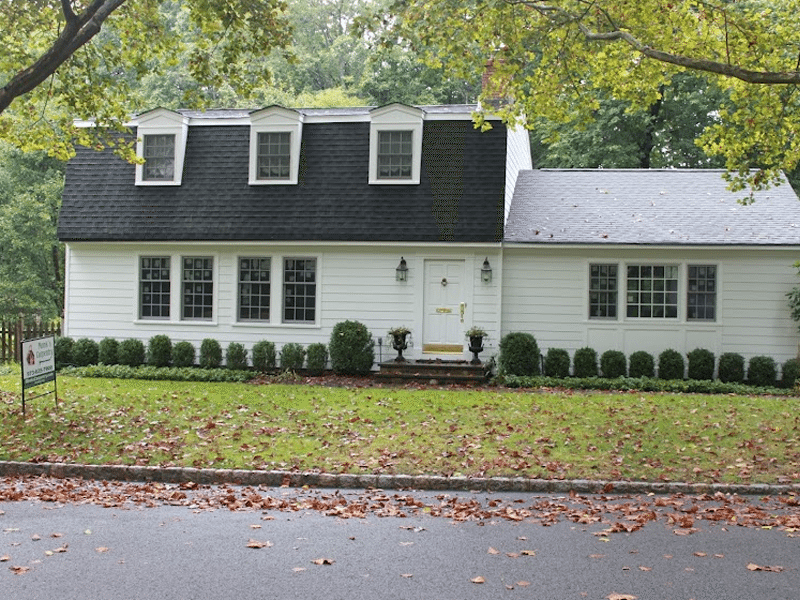 Monk's Method
Natural cedar shingles are low maintenance, however once they begin to wear and discolor there is not much that can be done besides replacing them with some sort of new siding. Inspired by the look of a nearby home, this homeowner had a vision of an all white exterior– something very different from the current cedar shingled exterior. Our Monk's team took a look at the neighboring home that had served as the design impetus and declared that we could do the job requested; in only a few weeks this home would have a brand new, all white exterior!
The home owner's wanted siding that would be sturdy, and maintenance free. Hardie plank delivers. Hardie plank is a cement product, which actually looks very similar to cedar plank. It is also an excellent material because it is moisture resistant meaning it can handle getting wet without the danger of rotting; an important quality for exterior siding.
Along with the siding, the exterior trim of this home was also replaced. Our Monk's team used azek trim board, which like the Hardie plank is a composite material, and is also moisture resistant. To get this project underway the entire exterior of the house was stripped to the sheeting. All of the trim was taken down as well as the gutters.
Window & Door Replacement
This interior view of the window replacement illustrates why we chose to use wooden windows in this project. Minimal work on the inside of the home was required, which minimized the disruption.
As the exterior siding project was underway we began to embark on the second part of this project. By removing windows, and a concrete wall our team was able to install French doors; giving access to this home's ground floor rec room. A look at the French door installation from the interior. Again, you can see how non-invasive this seemingly large-scale project can be! The new French doors not only look great, but they will also improve the accessibility of this ground level rec room. New windows definitely add to appearance, as well as the energy-efficiency of the home. In only three weeks our team was able to completely transform the exterior of this home! Here we have an exterior view of the completed French door installation— what a difference! New siding, windows, trim, gutters, and doors in only three weeks!
Learn more
More Projects: Exterior Carpentry
Other Types of Work: Dustless sanding project in Basking Ridge, New Jersey, or our Re-siding of a condo building in Chatham, New Jersey.
If you are considering Hardie Plank Siding, New Windows, or New Doors we would like the opportunity to tell you why we think we are the best New Windows, and New Doors and Hardie Plank Siding contractor in Madison, NJ. To discuss your project and receive a free estimate, call 973-635-7900 today.