Project Info
Location: Madison, NJ
Scope of Work: Exterior carpentry and exterior painting
This Madison, NJ home features a side porch in a Greek revival style complete with Doric columns and complementary balusters. At one point the open porch was closed off with floor-to-ceiling screen panels. Some pieces of the screen trim were in need of repair. We repaired the rotted wood and repainted the entire porch including the trim, the floor, and the beadboard ceiling.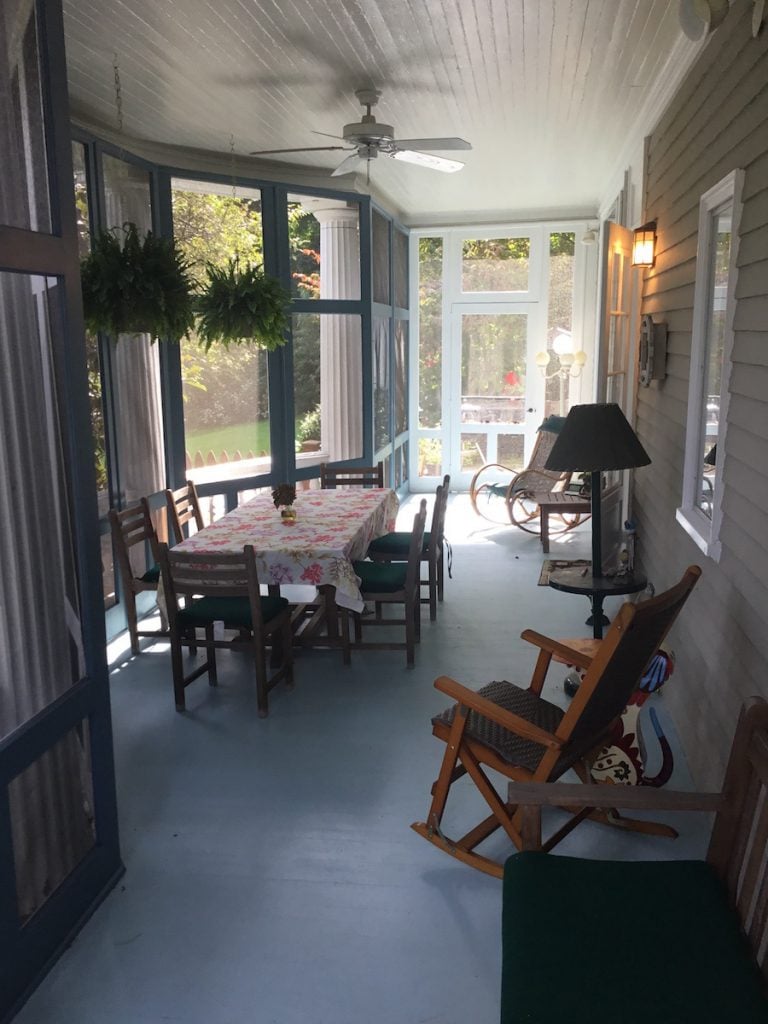 Monk's Method
The carpentry work was completed first. Our carpenters began by removing the rotted portions of the trim, as well as a few rotted floorboards. The carpenters rebuilt these sections to match the rest of the porch. This work was completed in a day.
Then our painters got to work. First, the painters sanded the room from top to bottom, including the beadboard ceiling. Then the painters applied primer to any bare wood. Primer is applied to seal the wood. The painters then applied two coats of exterior paint. We painted the beadboard ceiling white. Then the painters painted the floorboards a light greyish blue. We painted all the screen trim a complementary teal color. The color scheme gave the porch a whole new look.
Painting a screened in porch only took 3 days to complete. Now, these homeowners are ready to enjoy their outdoor space.
More Exterior Paint and Stain Projects
Monk's carpenters can repair, rebuild, or build new any wooden structure. Here is a brand new portico that Monk's carpenters built in Summit, NJ. You can also see this example of a brand new composite deck we built in Florham Park.
In addition to carpentry work, our painters can stain, paint and seal any fixed wooden structure. For example, applying solid stain to this wood deck in Madison, NJ. Here is a project where we painted textured shingles.
Please give us a call at 973-635-7900 to schedule a free estimate for a painting or carpentry project. You'll discuss your project with an Estimator, and receive a written quote on the spot.