Project Info
Location: Madison, NJ
Scope of Work: Railing system replacement
The homeowners had been doing everything right to maintain their wood deck and railing. Every few years they had us sand and paint the railing and it was in good condition. But Superstorm Sandy hit and a large branch fell on the railing, taking out an entire section of it.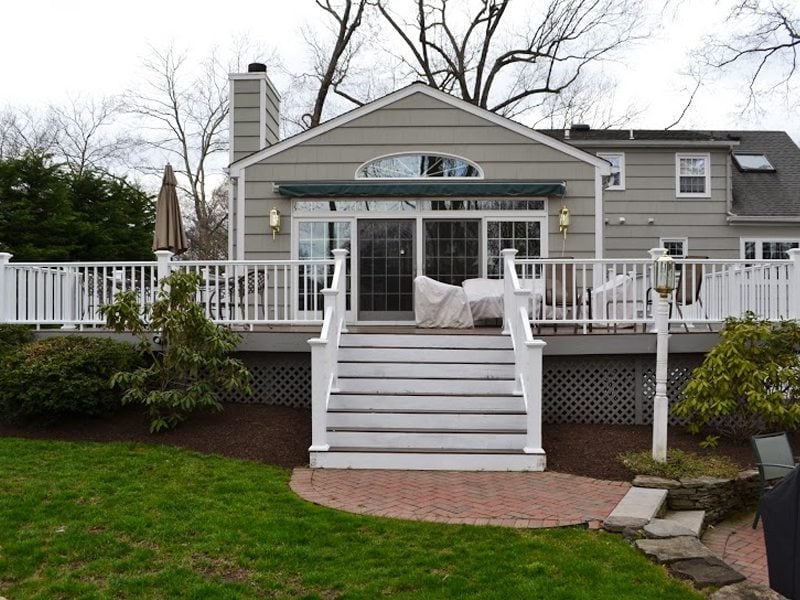 Monk's Method
While we could have repaired the existing railing with wood, the homeowners took this opportunity to replace their entire wood railing system with AZEK Rail. AZEK is a composite that has the appearance of real wood, but requires very low maintenance. Painting isn't necessary. Simply clean with a hose. Understandably, this maintenance plan was a lot more appealing to the homeowners. We began by carefully removing all the existing wood railing. We didn't want to damage the deck which wasn't being replaced. going until the only the posts remained. These posts were removed next so that new posts could be installed slightly further in to accommodate the base cap for this "Premiere" style of AZEK. Here is a before and after view of the railing from the bottom of the main stairway. While the overall look of the railing isn't very different, the AZEK railing should last for many years with just simple cleaning. No missing sections! The railing now wraps around completely with the attractive and easy to maintain AZEK railing system. The homeowners are now able to enjoy some BBQ and lemonade out on their safe and sturdy deck.
Is a railing repair or upgrade in your future? View our Trim Gallery to see examples of Azek and natural wood railing projects we've completed. Maybe a new deck is something you're considering? We've built decks from natural wood as well as composite materials. We'd welcome the opportunity to talk to you and see if we can help you best enjoy these summer months!
Learn more
More Projects: Deck Gallery
Other Types of Work: Hardwood floor refinishing job ,Tile backsplash , Tree house
If you are considering building a deck for your home we would like the opportunity to tell you why we think we are the best carpentry contractor in Basking Ridge, NJ 07920.
To discuss your project and receive a free estimate, call 973-635-7900 today.