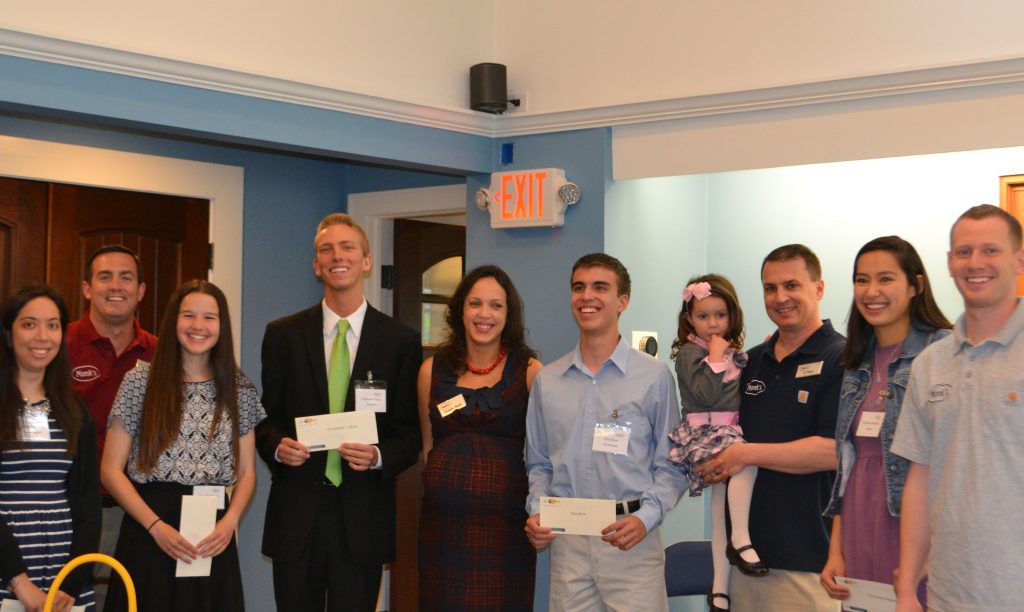 ---
We are proud to award these five young people with $2,000 scholarships. They have all demonstrated a commitment to improving their local and global communities through service. They are passionate, dedicated and driven. Their efforts have inspired us, and we love sharing their stories. We wish them the best in their future service and academic endeavors.
Congratulations to our five well-deserving winners!
Meet the Monk's Service Scholarship Recipients
Ryan Bonk, Governor Livingston High School
Ryan is nearly an Eagle Scout, completing his project to improve accessibility at a local nature center.
Ryan is also President of his school's NHS where he plans and organizes tutoring and volunteering.
Lastly, Ryan is a volunteer EMT. He won an EMS Excellence Award for translating for the surviving victim of a car accident who spoke no English.
Jennifer Bruckstein, Union County Academy for Information Technology
Jennifer is a volunteer first responder on the Berkeley Heights and Long Hill rescue squads. She has been on over 100 calls and has made two "saves". She consistently volunteers for up to 30 hours every week, including overnight shifts.
Her work as an EMT has shaped her career goals. Jennifer is working to become a Physician Assistant.
Olivia Diaz-Saavedra, Chatham High School
For the past 7 years Olivia has been a volunteer mentor for TryCAN. TryCAN supports special needs youth with recreational, social and support services. She has led classes and individual instruction in all of the above. She has also worked as an ambassador, working to recruit volunteers.
Olivia spent last summer in Nicaragua volunteering at a rural health clinic.
Samantha Snyder, Watchung Hills Regional High School
Every week, for the past 6 years, Samantha has volunteered at the Chelsea Nursing Home in Warren working in the Alzheimer's Unit for 5 of those years. She has brought companionship to these seniors while they have shown her perspective.
Samantha has been part of Relay for Life for 3 years, including head of the Luminaria Chair for two years. Relay for Life helps raise money for the American Cancer Society.
Christopher Stone, Scotch Plains Fanwood High School
Christopher's service efforts are vast and include volunteering at the Home for Hope Hospice, Seeing Eye Foundation, Habitat for Humanity, American Cancer Society and local homeless shelters. When President of the Student Movement Against Cancer, Christopher's annual Relay for Life raised $200,000.
In college, Christopher serves as the Chairman of Philanthropy including serving as the Chairman in charge of Survivor Functions for Relay for Life.
2016 Scholarship Application
Apply for the 2016 Monk's Service Scholarship today. The deadline is April 20, 2016.
Are you eligible? Read the Service Scholarship Terms & Conditions.
Read more on Monk's Home Improvements activities in the community.
The 2015 Service Scholarship Winners