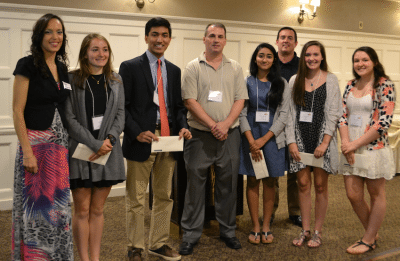 ---
At our third awards ceremony, we met five outstanding young people. We are pleased to share them with you so you can hear their stories. Besides being smart and passionate, they are kind. Their efforts have bettered their local communities, as well as communities abroad. We are so happy to be able to award them the Monk's Service Scholarship for 2016.
We wish them the best in their future service and academic endeavors.
Congratulations to our five well-deserving winners!
Meet the Monk's Service Scholarship Recipients
Kiera Cullen, Bedminster
Kiera initiated an AP scholarship fund to fund AP tests for students in need.
She was the President of the Bernard's High School Green Team
Kiera volunteers for Habitat for Humanity
Kiran Chokshi, Millburn
Kiran's Eagle Scout project donated 800+ books to local underfunded schools
Every summer he volunteers at the Student/Partner Alliance where he developed an online donation platform to increase fundraising
He connected local entrepreneurs with crowdfunded loans at his summer internship
Molly Garygantes, Warren
Molly was President of her school's Red Cross Club
Also President of her INTERACT Community Service Club
Director of her town's Girl Scout annual camping weekend for the past two years. Additionally, she was the first non-adult encampment director.
Molly is also a volunteer at her local rescue squad
Samantha Garcia, Madison
Sam was the Junior Board Member of Make Some Noise for Kids Cancer for SIX years
Established, and served as President, of her high school's Special Olympics Club
She also volunteered as a preschool aide at Cerebral Palsy of North Jersey School
Thilaka Arunachalam, Towaco
Thilaka assembled over 600 dental kits which she distributed in rural Philippines
She works with trauma patients on the Parsippany Volunteer Ambulance Squad
Volunteers at the Geriatric and Primary Care Center
Mentors younger troops as a Senior Girl Scout Ambassador
2017 Scholarship Application
Apply for the 2017 Monk's Service Scholarship today. The deadline is March 31, 2017.
Are you eligible? Read the Service Scholarship Terms & Conditions.
Read more on Monk's Home Improvements activities in the community.
The 2016 Service Scholarship Winners