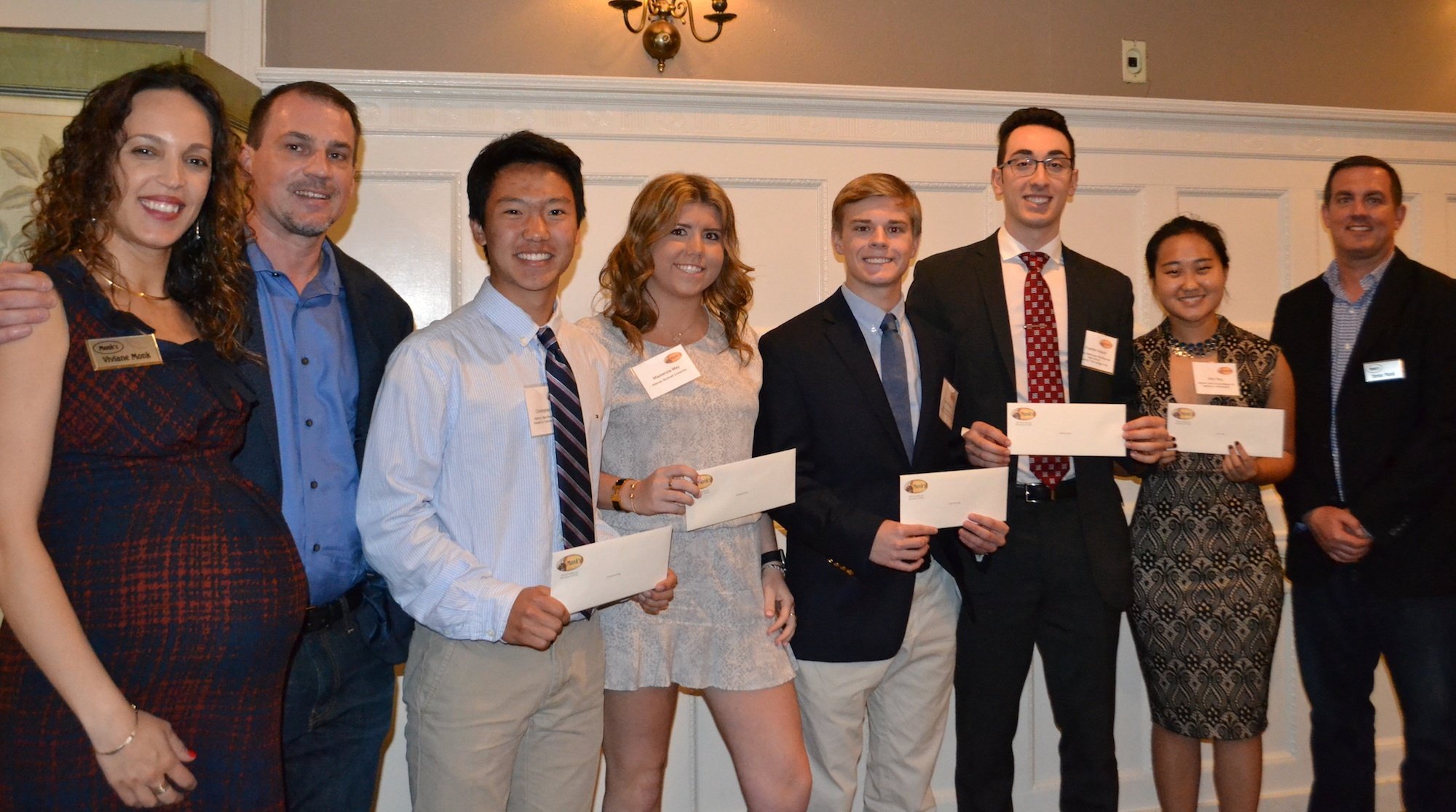 ---
Beyond giving their time, our scholarship winners applied their interests and skills in order to help others. Through personal initiative and perseverance, the five scholarship winners worked to solve problems in order to improve their communities. Whether their passion lies in government, science, technology, veteran's affairs, or inclusion, the scholarship winners devised a plan and kept working until their goals were achieved.
We received applications from residents across the towns Monk's services here in our small corner of northern New Jersey. In fact, 37 different towns were represented and students from 40 different high schools and universities applied.
We thank all those who applied, and all the service and volunteer work you provided. Reading about your efforts and dedication was inspirational and heart-warming. Thank you for all those you've helped, comforted, and encouraged.
We also encourage you to apply for a scholarship again next year. Provided you will continue studying for your undergraduate degree, and have a permanent residence in our service area, you will be eligible.
Meet the Monk's Service Scholarship Recipients
Freddie Hayeck, Watchung
Youngest elected official in New Jersey representing Watchung on the WHRHS Board of Education
Volunteer EMT at the Watchung Rescue Squad. Freddie plans to continue to serve on the Rescue Squad at The College of New Jersey.
Founder and President of the Watchung Hills Republican Club
Christopher Kang, New Providence
Established a district-wide STEM volunteer tutoring program for elementary students
On the volunteer board at Liberty Science Center
Volunteer at NJIT as part of the Governor STEM Scholars program where he works on cancer research
Mackenzie May, Morristown
Founder and President of Kids to Kids (K2K). The program serves 90 special needs children with the help of 120 high school volunteers. Swimming, yoga, art, running and drama programs are just some of what is offered.
Mackenzie set up K2K as a 501 (c)(3) and a Board of Peers to help grow the program
See more at KidstoKids.us
Dylan McCauley, Basking Ridge
YMCA Togetherhood volunteer since the 8th grade. Dylan has helped fire and hurricane victims rebuild their homes and lives.
Volunteered primarily at the VA in Lyons
Initiated and continues to schedule and deliver extra food from his current restaurant job to the VA
Mira Yang, Westfield
Founded the Youth 4 Disaster Program after working as an American Red Cross Fire Safety Canvasser. Youth 4 Disaster has trained over 70 volunteers in sheltering, casework and fire safety canvassing.
Swim teacher for special needs children
Team Captain and district President for her school's Relay for Life Chapter
Contributed hours of coding and software translating to OpenMRS, a non-profit electronic medical records provider
2019 Scholarship Application
To be alerted when we start accepting applications for the 2019 Service Scholarship, please email [email protected]
Read the Service Scholarship Terms & Conditions.
Read more on Monk's Home Improvements activities in the community.
The 2018 Service Scholarship Winners